Soft-Epi, a Korean manufacturer of UV LEDs and related epitaxial wafers, announced that they have developed and commercialized 365nm flip-chip LEDs with their high quality AlGaN templates. The optical power is 580mW at 350mA in a 45x45mil chip die. The
LED
epitaxy was done on an AlGaN template grown on a patterned sapphire substrate (PSS).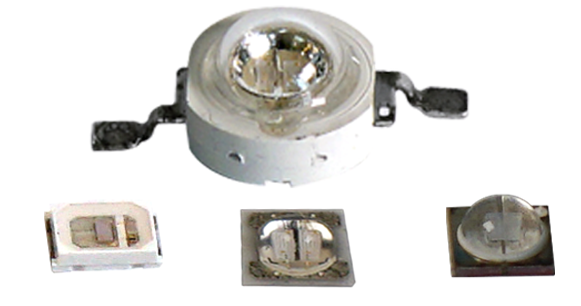 Soft-Epi's UV LED Package. (Image: Soft-Epi)
They used their own "AlN nucleation layer" technology to develop high quality AlGaN templates on the PSS. The templates have thickness of about 4~5um, Al composition of about 6%, XRD (102) better than 300 arcsec, and AFM RMS roughness of less than 0.2nm.
The conventional 365nm LED has a thick GaN buffer layer at the bottom of the epitaxial structure and the layer is removed during the chip processing (Vertical LED chip process) in order to prevent the emitted light from being absorbed in the GaN layer in return.
By replacing the thick GaN buffer layer with the AlGaN template layer, such complicated chip process could be avoided, making the simple and high performance 365nm flip-chip LEDs available in the market.
"Our 365nm flip-chip can be manufactured with the conventional lateral LED chip manufacturing line, and the chip process is very simple and well-proven technology in the market. Our products will have very high competitiveness in performance as well as price over the existing vertical chip based 365nm LEDs, "said Dr. Sung-min Hwang, CEO of Soft-Epi.
He added, "Our 365nm flip-chip will have higher packing density on the chip-on-board package, and this will be a very strong advantage for optical module design which allows one to improve uniformity as well as intensity." And he also remarked, "Our AlGaN template technology can be extended to the LEDs in deeper wavelengths (320~360nm) and the related products will be launched within this year. "
Keywords:UV LEDs,flip chip,AlGaN templates,Soft-Epi